Noisy Toys interviews:
Randy Gloss,
professional percussionist, teacher
| | |
| --- | --- |
| Randy Gloss World Music Percussionist | Randy Gloss is a professional percussionist who plays in several innovative ensembles that fuse world music with new music and jazz. Randy is a founding member of "Hands On'Semble, a percussion quartet created by percussionist-composer John Bergamo. Randy has a Master of Fine Arts degree from the California Institute of the Arts (CalArts) and has been on the faculty there since 1999. He also teaches part time at the Los Angeles Music Academy. |
Noisy Toys first interviewed Randy in 1998. Excerpts from the 1998 interview follow this update. Hands On'Semble performed in October 1997 in a special concert presented by Noisy Toys called "The Meeting of the Masters." It featured Sri Lankan drummer Piyasara Shilpadhipathi teamed with John Bergamo.

NT - Randy, give us an overview of what you're doing these days and some of the groups you are playing in now.

Randy - Right now I split my time between playing and teaching. I teach primarily at CalArts, California Institute of the Arts. I also teach at Los Angeles Music Academy and various summer programs. This summer I'm teaching at the California State Summer School for the Arts and also the Creative Education Academy at Oakwood School. I also maintain a private lesson base.

As far as playing, my primary group is Hands On'Semble, which is a percussion group. It was a quartet with John Bergamo. John is not actually retired, but he has backed away from performing and touring. He is still active in the sense that we get together with him and he's still involved with what we are doing. Hands On'Semble has become internationally known as a world percussion group because our primary gigs are at percussion festivals, world music festivals, music schools, universities, conservatories and this kind of thing. We've become quite successful with that group. We've done three albums which we have released so far. We are in the midst of doing our fourth, fifth and sixth albums simultaneously this summer. We are working with a lot of world percussion figures such as Swapan Chaudhuri, the tabla player, Adam Rudolph the percussionist, Houman Pourmehdi who is an Iranian drummer, Poovalur Sriji, who is a South Indian drummer, and Brad Dutz has been working with us. We just brought in Abbos Kosimov from Uzbekistan to work with us. We're opening up the group since John has backed off a little bit, to bring in these different esteemed guest artists to collaborate with the group and help keep things fresh. We've been heavily involved in that for the past year and a half since John kind of stepped away.

That's a big part of my playing, but I'm also working with a lot of other groups that are based around this idea of fusing world music with other things, whether it be jazz or new music or what ever. My work with Adam Rudolph is with two groups. One is Go: Organic Orchestra and the other is a percussion group called Vashti. Vashti is in the middle of making their C.D. I've done two C.D.'s with Adam's Organic Orchestra. In addition I am playing with a group called Lian Ensemble, which is a very well known Persian classical group.

I also get a lot of calls for different projects. If someone is making a C.D. I might go to do a few rehearsals and a recording and a couple gigs. I do a lot of collaborations with world music that way. There are various local things, including a player named David Trasoff who I'm doing a C.D. with and his group called Svara which is an Indian - jazz - fusion thing. These are the performance things I am involved in right now, usually collaborating different types of world music, plus classical music and jazz and finding ensembles that I can apply a lot of different things to.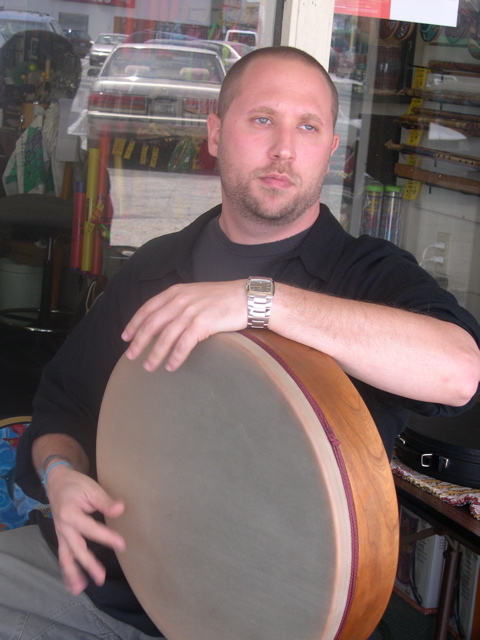 Randy Gloss Demonstrates Frame Drum
NT - Since we talked with you last, about seven years ago, have you seen a change in the general acceptance of musicians who are doing a lot of melding and crossover of jazz, world music and blues?

Randy - Yes. I think there is definitely a lot of it. I think there are two main approaches that people are taking. I have seen a lot of very, very serious young students of these music cultures now where as ten, fifteen and especially twenty years ago it was very rare. Now it's not so rare, especially in places like CalArts and places I've been touring with Hands On'Semble. It's not so rare to see someone in their late teens or early twenties who is already exposed to tabla and playing tabla, or already playing Brazilian percussion or Arabic percussion. It's becoming more commonplace.

The nature of being an outsider of any ethnic music makes you think, "O.K. I'm going to study Arabic music or I'm going to study Indian music, and does that mean I'm going to become Arabic or become Indian?" Ultimately the answer is "no." But we all have our own musical experiences, our own roots, whether it's playing rock and roll or playing any other style. It's only natural that when you take these ideas from other music cultures, when it does come out as pure music it's going to be mixed with something of your own experience as well. There are two types of these kinds of fusion collaborations that I am seeing. One that seems very natural and organic comes from a place where ideas are very well thought out and "cooked" and is really a part of the person's musical identity. And then I am also seeing another approach based around mixing ideas that might be more commercially successful, which comes from a different place, not someone's experience but more of a novelty. Like the idea that someone might think tabla would sound great on their record, or thinking it would be great to have an Arabic musician play with this group or whatever. It's really not a deep, profound idea that the person is trying to express.

NT - That sort of thing goes back to the Beatles and maybe before that because they would experiment with eastern sounding music and other things. A lot of big name bands from that era did, and I suppose maybe more of that is starting to happen again?

Randy - With regard to the Beatles, I think with George Harrison there was a tremendous amount of sincerity in his approach, and I think he should definitely be given a lot of credit for being one of the first people of that stature to not just do it in a token way, but to really go to India and pursue it and want to study it and have a sincere respect for the music. Even though when you listen to Sergeant Pepper and hear how the tabla and sitar sounds are used it is more of an icing, more of a novelty thing, I don't think for George Harrison it really was a novelty. I think for him it was a very deep thing.

NT - Are there any other musicians today who are using influences from other cultures in their music to make pop music?

Randy - Yes. I think Sting would be a good example of that. He has used a lot of different types of musicians from Arabic musicians, Indian musicians, Brazilian musicians. I would say that as far as pop music goes he is a good example and Peter Gabriel would be another one. There are also pop groups that are maybe not so well known or as commercially successful such as Afro Celt Sound System where the whole idea is to take Celtic bodhran with Senegalese drumming mixed with electronica kinds of sounds. So there are groups out there that are doing things in a more commercial way, but that's not to say if your music is commercial that it can not have that kind of depth. I think quite often there are two types of collaborations. One type is a marketing thing because it is trendy, and that's why people are putting those things in their music. But other projects come from a place of curiosity and study and respect.

NT - You've come quite a long way since we last spoke. Is there anything you would have wanted to change in your career, or are you happy with the direction everything has been going?

Randy - I think I'm happiest when I am doing a lot of different things. If I'm only playing Indian music, if I'm only playing jazz, if I'm only playing pop music, if I'm only playing classical music, or what ever it is, if I'm only doing one thing I get really nutso. I think I need to have my hand in a lot of things and that's why a group like Hands On'Semble is so gratifying. Because we can make it whatever we want, and whatever influences I have I can bring into the group and make something out of it. I would have to say I'm pretty content in the sense that I have a lot of control over the things I'm doing. I'm very selective about the things I get involved in. I say no a lot more than I say yes, and I think that is a place that's very different than where I was.

I'm happy that I'm having some good successes with what I'm doing and I'm being really true to it, and there are places like CalArts to keep working in an environment that feeds this kind of approach. I'm very fortunate to be able to be in a place now where I can just do what I really love to do. But I'm always into doing as many things as possible. I still play drum set, and that's still a part of what I do. It's really funny that a group I played with about 15 years ago, when I was a teenager about 18 years old, has called me. This group never really went anywhere, but somehow, it has come to a point where the group is going to do a sound track for a TV show for NBC. We are going to reunite and record some things for this show for NBC. It's a rock band, but it's not like I'm past that point. These are people I loved to play music with then and it is going to be a fun project. It is what it is, I'm not going to try to make it something it is not. It's not like I going to say "Oh I have to play tabla and add Indian concepts to this thing." It's a rock and roll band. It's music and it's true and I'd love to do it, so that is what it's all about.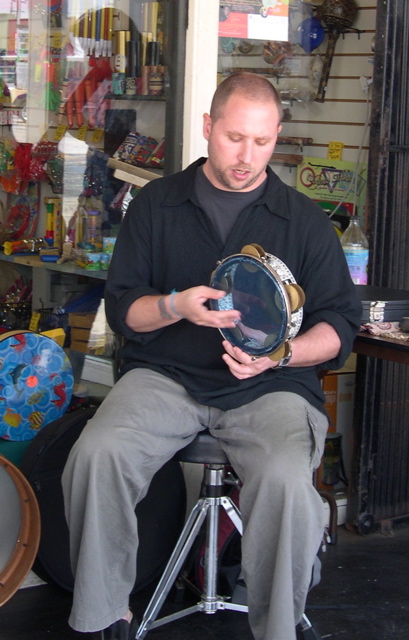 Randy Gloss Demonstrates Pandeiro

If I get a good feeling about the people I'm going to work with, it's good music and I feel good about it, then it doesn't matter if it's music from this culture, that culture, or whatever. What I've learned about myself is that I am really just a student of rhythm, and that's really it. Whether it's playing a drum set or playing a djembe or playing a doumbek or playing tabla it's still drumming, it's still rhythm and that's what I'm really about. It's really about seeing the connections between all these different things, and ultimately I think that that is being true to myself as an American percussionist. It's really embracing this whole idea of being a melting pot culture and seeing what's around. In Los Angeles there's an enormous population in the Indian community, an enormous Persian community, and an enormous Brazilian community. There is so much diversity here and that is as American as anything. So I don't feel that I can lose my identity by studying Indian music. What about my own music? The way I look at it is that this is all involved in the American soundscape.


NT - The last time we talked you had just traveled to India for the first time.
Since then you've been all over the world?

Randy - Yes. Hands On'Semble has been going to Brazil every year for the past five years, which has had a huge impact on me, especially my work with the pandiero and the research of that instrument. The group has gone to Europe, Asia, and we traveled all over the U.S. We have really made the rounds. I went back to India a few years later for a concert tour. It was a fusion thing with a Brazilian pianist, an Indian string player, an African drummer and myself touring India playing concert halls there, and it was really a very different experience.

I've been literally all over and I love it. I love to just go and play and share. And the best thing is that this is a collaborative environment. It might be a music festival where there are artists from all over the world all staying in one hotel and eating dinner together and going to support each other's concerts. Then you really get to know the people. That has just been the best thing as far as my musical growth. Just going out there and doing it.

(Excerpts from 1998 interview with Randy Gloss)


NT - You started your drumming career on drum set and now you prefer hand-drumming, especially the Eastern Indian style. What attracted you to this style?

Randy - I think that the music of India and the tools they teach in that music can be applied to anything. I think it's a very deep, deep subject, but what it does is open up things that seem difficult in other music cultures become easy in Indian music. They have a very clear and broad language that they use. For every sound the drum makes there's a verbal sound, so you really learn how to open up and flow in a drum language.

They also deal with a lot of things such as odd-meter and odd-note groupings. It's one of the first things you learn how to do. If you ask someone to play 5 over 4 it's like "oh my God!!" But if you ask someone to play "takataki" suddenly it's really easy. So, there's a very clear method to that music that draws me to it. Plus the tabla, as far as I'm concerned, is one of the most beautiful drums there is.

NT - You met John Bergamo and Swapan Chaudhuri when you attended CalArts. Do you consider them your mentors?

Randy - Yes. I've been studying with my tabla teacher, Swapan Chaudhuri, for 5 years and he's one of the greatest. In my opinion he is the greatest, both as an accompanist and as a soloist. He's an amazing role model, not just as a musician, but how he is as a person. And, of course, John. It's really an honor to go from the student-teacher relationship to now I get the opportunity to perform and record with John, which is a real treat.

NT - Do you think of drumming in some sort of spiritual way?

Randy - I don't think by doing it I'll heal my soul, but in the same sense because it's not just something I do, it's something I am and I've been doing it so long that it's a part of my life. When I don't get to do it, that's when I really get down. It is spiritual, but I don't approach it from a spiritual sense...that's not really what I'm after. But because it's such an integral part of my life, I guess it is spiritual.

NT - Why do you think drumming is good for young people?

Randy - I think when young people get into drumming, or music in general, it opens up a lot of things that help other avenues of learning. I think learning music helps with learning math, with reading retention and even with things that aren't related music. I think it helps in learning social skills and I think there there are a lot of things kids can benefit from all types of music.


Hands On'Semble CDs and other CDs that Randy has performed on are available for sale at Noisy Toys.

You can reach Randy at: www.randygloss.com www.handsonsemble.com
<- interview index -