Noisy Toys interviews:
Carlinhos Pandeiro de Ouro, Legendary Brazilian Percussionist
| | |
| --- | --- |
| (Photo courtesy of Hector Torres) | Carlinhos Pandeiro de Ouro was a child prodigy in Brazil on the pandeiro, a Brazilian-style tambourine. When he was 14 he played the part of a young boy in the famous cult film Black Orpheus, which won the Best Foreign Language Film Academy Award in 1959. By the time Carlinhos was 19 he was touring in Europe and was part of the first wave of Brazilian musicians to bring samba and bossa nova to the US. In recent years, Carlinhos has helped foster samba schools in Los Angeles, San Francisco and Seattle. He has played on dozens of albums, taught Brazilian percussion to hundreds of professional and amateur musicians and performs regularly. |
NT - Tell us about how you happened to be in the Brazilian film "Black Orpheus."

Carlinhos - That came about in 1957 in Brazil with the producer Michel Camus and my friend Alfredo Bessa. He took me to his ex-wife. She liked me and talked to Michel Camus and he started to work with me to do that movie. This was in 1957 and Camus was a French producer.

NT - You were 14 at the time. How did it feel to be in a movie in Brazil?

Carlinhos - That felt very, very good, because they discovered me when it was raining in Brazil. Flash flood water was coming down and I started to play in the water and I used to play my tambourine over there. Here we call it a tambourine, but in Brazil we call it a pandeiro. I started to play my pandeiro and they liked me. They started to teach me how to do stuff, and I had some workshops to learn how to be in a movie.

NT - When did you first start playing the pandeiro?

Carlinhos - I was about seven-years-old. I started by playing my mother's cake pan because I did not have a pandeiro. I started to practice every day . A very good friend of mine used to play pandeiro every day, and he would call me up to play tambourim so he could practice his pandeiro. I asked him to teach me how to play the pandeiro and he said, "No, you play good tambourim, so you don't need to play pandeiro." He would not let me take the pandeiro. So one day when he put the pandeiro down to go to the bathroom, that's when I got the pandeiro in my hands. Then I went back to practice with my mother's pan and started to learn.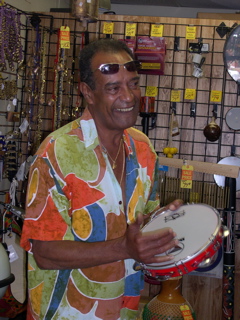 He used to travel all over the world and my family liked him. He asked my father to make him some clothes. My father was a designer who made clothes for everybody and for the Samba School Portella. They tried to take me to that Samba school, but I did not like it. Then they took me to the Mangueira Samba School, but I was too young and they didn't let me go to dancing class. Then somebody left a cup of alcohol. I grabbed it and drank it, and it gave me the encouragement to jump in the middle of the circle and start dancing.

The president of the Mangueira Samba School loved to see me dance, but I was ashamed to dance in front of people. Then the Mangueira Samba School went to another samba school to do the bateria. They took me in the middle of the presentation and when the drums stopped, I kept playing on my small pandeiro. Everyone was looking at me playing, and then the drummers began playing again and everyone started to clap. The President (of the Samba School) pushed me into the middle of the circle to dance again. I was embarrassed, but I closed my eyes and started dancing. When I was finished everybody carried me and put me inside a car and took me to Mangueira. At that time (this part of Rio de Janeiro) was a very dangerous place. They took me in to be in costume and dance in the parades for Mangueira.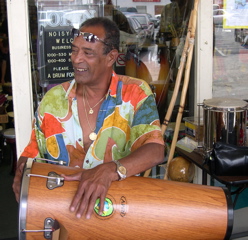 I was a very, very young kid, but I was around famous dancers and composers, and I played very well in the middle of 65 to 100 people playing the drums. We call this group the bateria. From there I started seeing a lot of pictures of myself in the local news papers and at the cinema. A man named Carlinhos Niemaia used to make Super 8 films to play before the regular movies played. They used to put advertisements and news about soccer and other things going on in Brazil (on the films), and they put my picture in there. Everyone who went to the movies would see my face first!

NT - So this was something like a movie preview where they would show a short clip before the movie, and you ended up being on one of those?

Carlinhos - That's how it started, but my mother was against me playing at the samba school because she used to take me to play some cymbals and bass drum (surdo) in Brazil, even though she didn't like it. I had a feeling that playing was my thing, my way, but everyone said, "No. You have to go back to school and study to be a doctor or a soldier." I did not want to be a soldier. So I started to practice every day and I practiced every night. I danced a dance I learned from a guy who worked with my father. He was a very beautiful dancer and taught me this dance. When I was small, only three or five years old I was already dancing.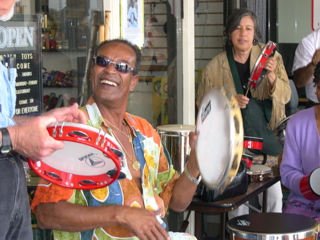 NT - Did everybody dance in Brazil, or did only some people dance?

Carlinhos - I think 90-percent of the people danced in Brazil, because as Joao Gilberto said in a song if you don't like the samba you're not good.

NT - So you had to dance.

Carlinhos - Yes, it is in my blood. My grandfather was from Angola, Africa, and my grandmother was from Portugal, and I was born in Brazil. The first place my grandfather lived in Brazil was Mangueira. My grandmother lived on Madera Island in Portugal. My grandfather was the cook on a ship and my grandmother fell in love with him. He took her to the ship when the cargo ship stopped there. They were in love and she fell asleep on the ship. When she woke up she was in the middle of the ocean headed for Brazil. That's where everything starts.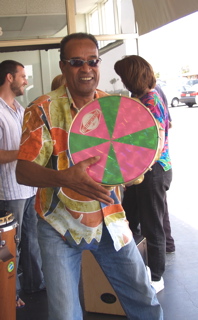 (Photo courtesy of Phil Talbot)

NT - That's quite a story! Did you ever expect when you were little that you would end up living here in Los Angeles, California?

Carlinhos - No, I never expected that. My first international trip was to South America, to Argentina. I was growing up and starting to gain fame. In 1960 or 1962 and I went to Argentina with a big group or company called "The Carnival of Copacabana." >From there I went to Chile and sang the old songs from Brazil. Although I was very young I started to work for national radio in Brazil and followed those big, big singers like Emelinha Borba and Marlena. These were the very old singers from the old time (1959 to 1962). I started with Erivelton Martins, who was a good composer and the father of singer Pery Ribeiro. He was the first guy I worked with. And then I worked with Altaulfo Alvas, who was another great composer from Brazil who passed away a long time ago.

Then I started to work in television and traveled all over the world. My first trip to Europe was 1968. I was in Germany for 6 months, then traveled all over the world with a Brazilian company. I traveled all of Brazil with Virginia Lanie, and then I started to make records with everybody. At this time we had two sections in Brazil. The first 6 months we played jazz for boleros and salsas. Because they didn't play carnival music until 3 months before carnival. They would play some marches and everything else, but not samba from the samba schools. And today they play everything.

NT - I read in your bio, and I am looking forward to seeing you do this, that you were one of the first people to do juggling with the pandeiro and other fancy moves. How did that come about?

(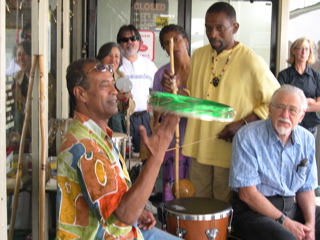 Carlinhos - The first guy I saw do the juggling was Ruso do Pandeiro.
They came to the U.S. with Carmen Miranda. This was a long time ago. They did a few things with the pandeiro like spin it on their fingers, twirling it high and punching the pandeiro. I used to play with little rocks, and pieces of wood and glass and roll them on my fingers. Every thing I did with a ball I transferred to the pandeiro. That's why I did a lot of juggling with the pandeiro.

NT - How did you come to be known as Carlinhos Pandeiro de Ouro?

Carlinhos - This was in 1966. There was a contest in Brazil with about 600 pandeiro players who each had five minutes to play all the different kinds of rhythms. I created a lot of rhythms on pandeiro and I think that's why I won. Most of the people did not do the juggling. I created most of the juggling with pandeiro. I used to watch an old man named Jacques de Pandeiro, who has since passed away, sing and play the pandeiro. Mostly songs from northern Brazil and I liked the way he played. I tried to see the best, then add my own ways on top of that.

NT - So you had your own style?

Carlinhos - Yes. In that contest there were 600 people and 10 days before the elimination, they cut 590 people. Ten people went to the Maracanan, the big stage to try to win the Golden Pandeiro. I got lucky and the pandeiro came to me. Two pure gold pandeiros, 300 grams each.

NT - So it is an actual pandeiro made out of gold?

Carlinhos - Yes, a real pandeiro made out of gold.

NT - Do you still have one?

Carlinhos - Yes I do. The Mangueira School has one, too because I represented the Mangueira Samba School at this time. The other one is still with me in Brazil.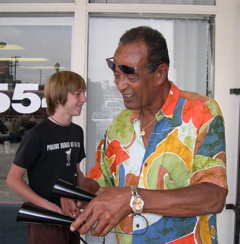 NT - That's great. What are you doing these days? And who are you playing with here in the L.A. area?

Carlinhos - It seems like I used to play with everybody. I played with Ed Thigpen in Sweden. I lived for 11 years in Sweden. I made albums there with a lot of studio work and a lot of touring all over the world with Sylvia Vretthamer Sonet's Show with my trio. After 1966 I formed the trio. I taught two other guys to do the juggling. We would stand together and roll the pandeiro across one of us to the other. At the end we would throw the pandeiro into the air, or hold them spinning on our fingers. We stood in a triangle and would throw them to each other. We used some choreography so we could dance a lot. We had gigs all over the place. After that we made a movie of the top 10 things to see in Rio de Janeiro. We made one movie at the top of the hill by the Christ statue overlooking the city. Then there were a lot of other movies.

NT - I hear that you teach now and you also make instruments.

Carlinhos - Yes. I used to make the cuica in Sweden, and other instruments called the tambourim, berimbau, and caxixi. Then I opened my company back in Brazil, and Ed Thigpen used to sell my cuicas. I used to travel a lot with Ed Thigpen. We played some shows in Germany with Toots Thielman, Amereco Beloto from Argentina who played trumpet, , Ed Thigpen, Matts Vinden a bass player from Denmark, and Runee Ofwerman, who was a singer from Sweden. I had some compositions, songs, in London, in Brazil and the United States.

(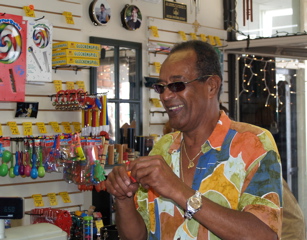 (Photo courtesy of Phil Talbot)

I came back from Sweden and spent about 5 years in Brazil. I got married in Brazil and moved to Hawaii. I spent 21 years in Hawaii. Now I have lived in Los Angeles about 2 1/2 years. Today, I have a lot of gigs, but it used to be very hard. I used to come over here about twenty years ago to play at UCLA with people from the Brazilian consulate. I had a few students over here like Ron Powell, who plays for Kenny G. I taught him how to do the juggling and play pandeiro. They took me to Mark Fisher about 17 years ago because I played with Sergio Mendes and Ron Powell in Brazil on some television shows with the Sergio Mendes group. We became friends after that and I moved to the United States and began to play over here and started to meet a lot of good musicians here. In Hawaii I met Luis Conte and Alex Acuna. I made a lot of caxixis there. I lived in New York with Steve Thornton, who is another good percussionist who moved to Japan. He got married and lives in Malaysia now.

NT - Well, we're glad you live here now!

Carlinhos - That's the story of my life so far. I hope to have many more stories to tell!
<- interview index -