Noisy Toys interviews:
John Bergamo at Noisy Toys
with his REMO signature frame drum

John Bergamo

John Bergamo is the Percussion Coordinator at the California Institute of the Arts (Cal Arts) in Valencia, California. He is the director of "Hands On'semble" and has recorded and performed with dozens of major artists ranging from Ali Akbar Khan to Frank Zappa.


NT: What are your primary duties at Cal Arts?

JB: My job is really a pretty good job. I'm teaching percussion, and that includes hand drumming, tabla, percussion ensemble, world music ensemble, African ensemble and sometimes I have a jazz ensemble. In that ensemble I'm usually the drummer so I have an excuse to play the set drums.

NT: How did "Hands On'semble" come about?

JB: Hands On'semble came about the same way my previous group, Repercussion Unit came about. Repercussion Unit was a 1970's group and Hand's On'semble was a 1990's group. They were all students at Cal Arts and we started playing together because we were either a class or an ensemble and then the next thing you know, we had a group. All of us in Hands On'semble play tabla and we all studied with the same teacher.

NT: When did you start playing drums?

JB: I started like a lot of other people: beating on pots and pans in Mama's kitchen. When I told my parents I wanted to play drums they said "no ... why don't you play an instrument?" So they coerced me into playing clarinet. When I decided I didn't want to play it any more, I took it all apart ... permanently. My parents were not happy about it, but they finally understood I wanted a drum set. That Christmas I got a drum set. I was 10 years old.

NT: When did you switch from drum set to hand drums?

JB: In 1966 I had been playing for 2 years with composer Lucas Foss at the University of Buffalo, New York. It was a Rockefeller grant for several musicians to play only new music. In our last year, Ali Akbar Khan and several other Indian musicians came to the University and that's when I saw tabla played for the first time. Even though I was sitting in the front row watching, I couldn't believe it was happening.

I went back stage and he later became one of my teachers. I looked at him like he was a God ... I wanted to know how he did it.

He looked me straight in the eyes and he said, "The first 3 years we play only on stones." So, I figured these guys sleep on nails, walk on fire and they played on stones. It wasn't until several years later after I already had one teacher for 3 years that I went back to Ali Akbar Khan and told him I was having a problem with one of my strokes. I asked him if it was because I didn't play on the stones and he said "What in the world are you talking about?" He laughed when I reminded him how he had conned me.

I went to California in the summer of 1966 on a dare. California was a dream land. I drove to California when I was 26 years old and I got hooked on tabla. But after a year I realized I was not "The Great White Hope" and I would never get to that level of playing tabla. But it turned my life around and effected every other music (style) that I ever played, especially in terms of dynamics ... how loud things are.

Over the years I gravitated away from the tabla. In 1968-69 I taught at the University of Seattle. Then I returned to California and got this job at Cal Arts. The job included World Music and it was the first time I had ever heard that term. I've been there ever since.

NT: How many cultures would you incorporate into a piece if you decided to do one long drum solo?

JB: It would be at least three: Middle Eastern, Indian, and Western traditional percussion.

NT: Who are some of the artists you've played with over the years?

JB: A long time ago I played with Leopold Stickowski and his orchestra. I've played with Frank Zappa, Ali Akbar Khan, Herb Alpert and a lot of people you might not recognize. I played with John McLaughlin when he had the group Shakti. I played three concerts with them in Canada in 1977. And I played tabla for just eight seconds on Ringo's last album, "Vertical Man." I had worked for his producer before. I was the last person added to the album and I didn't expect to see Ringo, but he showed up with his wife and a bunch of other people. He sat down with me and told me what he wanted, and he was totally cool.

NT: What do you think about the growing popularity of World Music?

JB: World Music is expanding all the time. Just look at all the cross-over in the past 10 to 20 years. It's not anything new, it just happens faster now with the internet. I could punch up something in China or Africa and see and hear it right now. Ry Cooder won a Grammy with a cross-over album. Ali Akbar Khan was nominated for several Grammies. It's very exciting because we get to rub elbows with all kinds of interesting musicians. My latest encounter was with a Persian guy. (Houman Pourmehdi.) I play drum set on his album ("Syncopation") as well as hand drums. He's already experimented with flamenco music. Afro-pop and Afro-beat music is also popular now.

NT: How would you recommend that a beginner who wants to drum for fun get started?

JB: I would recommend starting with a frame drum. It's a lot cheaper than a drum set. You can put a frame drum ... let's say a 14 inch frame drum ... in a suitcase and take it anywhere. Then, get a good teacher or buy one of the many videos available. A frame drum can become a very personal thing. It's simple, but there are a lot of traditions with it. Some people find drumming reduces stress or helps with healing. I encourage people to take a look at music therapy. Drumming can also help with meditation and focusing. I also recommend it as a family activity; a good alternative to TV.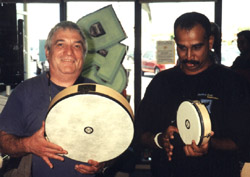 <- interview index -